Two nights ago Ben had his first night in a crib, which as you can see from the rather pants picture that I faffed with in an effort to distract myself, is a close to the side of my bed as it can be. I'd say it is as close to my side of the bed as the side of the bed he has spent the last two months sleeping on. He's been going through the night from 10.30 to 6ish for the last week or so and once I'd (irrationally) got past the 13th April, it felt like time to let Max back into his bed and get Ben into his crib.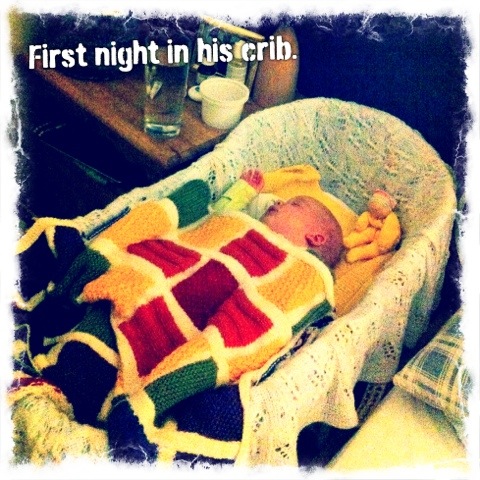 I did okay that night, though he only lasted till 4am or so, but we managed feeding in the dark and snuggling up with three of us for the last couple of hours and I didn't find him being on a different mattress too hard for the first part.
Last night though, I just couldn't do it. With the throw away sentence I read about cot death going round and round my head, I lay there straining to hear him breathe, bothered by the lack of his habitual snuffle and trying to hear him over the sound of Max's snore. I've not been immune to cot death panics since he was born, I must have struggled to sleep worrying he will be gone in the morning once a week since we came home, but I thought I was getting better. With those panics last night came a horrible set of flashbacks to Freddie's last hour and that was it then. I just started to fear that Ben would be gone by morning and a cot would be the reason for it. I was frightened, having had instincts with him and Freddie, that to not get him out of his cot would be ignoring and instinct and that he might need to be near me that night to stay alive.
I don't think that's very likely or logical now. Trouble is knowing when you are being irrational and new mother-ish; lots of things that seemed like logical worries 6 weeks ago now have me shaking my head at myself.
I'm not particularly an intentional co-sleeper, though we've done it plenty but neither of us are a light as we were and Max has been on the floor for 2 months and needs a bed again. I don't want to HAVE to have Ben in my bed and I don't want Max to be on the floor forever either. I thought this would be easier than it is proving though. I don't want to be clingy or panicky and I don't want Ben to be in our bed if he doesn't need it or beyond a point where we hit a habit rather than a need scenario.
Last night though I just started to cry and once that happened I had to pick him up and bring him in with me – and the relief was as physical as when a baby starts feeding and ceases to wail. He slept fine beside me. Max didn't even notice – and all was well.
I just don't really want to set things up I can't break myself of. I'm not worried about him, I know children move out of the bed when they are ready, but he deserves better than to be relied on to live or have me being needy about him. It's not supposed to be that way round. I think maybe I didn't express myself well enough when I tried to articulate how distressed I was by this event this morning. It isn't right for it to be me that can't let him do what he's ready for – that's all wrong.
I thought it would be easy once he was here and alive and the pregnancy was over. Turns out that was just the beginning part. Now I know babies – children – can die, I'm not sure how I'm ever going to be able to feel safe again.