I'm a complete gadget girl; I have a DS (I'm on my 4th!) and an iPhone and a laptop and a Kindle and I love them all and can use up to three of them at any one time. I have a barcode scanner at work and a laminator and a decent camera and a pasta machine for my Fimo and a whole host of favourite websites I've already blogged. I stop short of cooking gadgets because I can't cook  but there is barely any other part of my life I wouldn't happily have the appropriate gizmo for making life easier. Digital photo frames, and digital calendars on my computer, things that link and whisper to each other. I adore gadgets.
But the thing that makes me happiest is making things and most of those things don't need gadgets at all. You can't call a knitting needle a gadget, not really, nor a crochet hook. But when it comes to polymer clay sculpture, I'm prepared to stretch a point, because people who love clay, love their tools.
In clay land, the thing I can't live without is the left hand one of these*. In the  Fimo & Sculpey Dragons I made the other week, that was the one thing I used, apart from one other tool that put scales on two of them. The black end for eye sockets and skin feathering, the silver end for nostrils and smoothing the eyes out and blending the pieces together and for marking the freckles and for rooting the beads that decorate them. It dimples the wings and smooths out crinkles and marks out and defines creases. It is my wonder tool, my favourite gadget.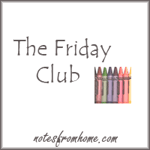 *PS. I didn't pay very close attention to the brief – blame it on no sleep – so pretend this has a wire on the end, or is battery powered. Or something.
Geeky Mummy gives us A Geeky Guide to Buying a Mobile Phone.
Helen at Cheeky Wipes tells us about her favourite gadget in And the award for best gadget goes to…..
Cara at Freckles Family writes about a gadget she loves.
Bibsey writes about her favourite gadget, my 'precious'.
Merry at Patch of Puddles tells us about her clay sculpture tool.
Jax at Live Otherwise gives us her favourite gadget and it's not what you think.
Cass at The Diary of a Frugal Family posts Gadgets – I love you….. .
Clare at Seasider in the City gives us Tech her family can't do without.
Jacq at Mymumdom tells us about her backing camera.
Katherine at Living and Learning tells us about the fizz in her favourite gadget.
Maggy at Red Ted Art posts about her digital camera.
Ella at Notes From Home tells us about her home media centre.